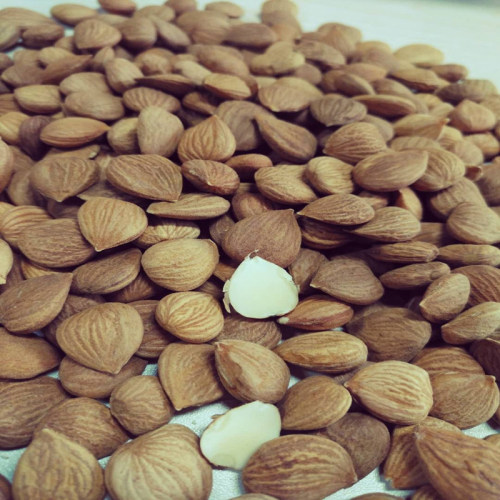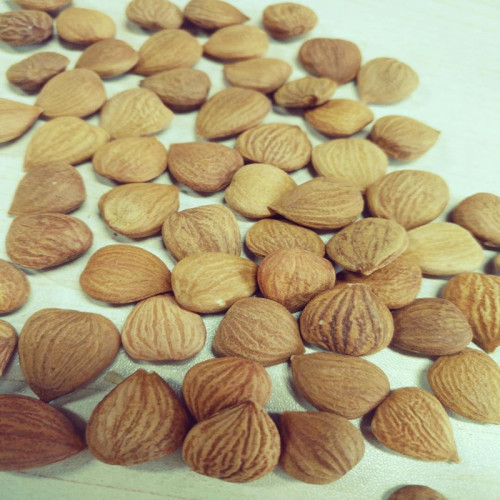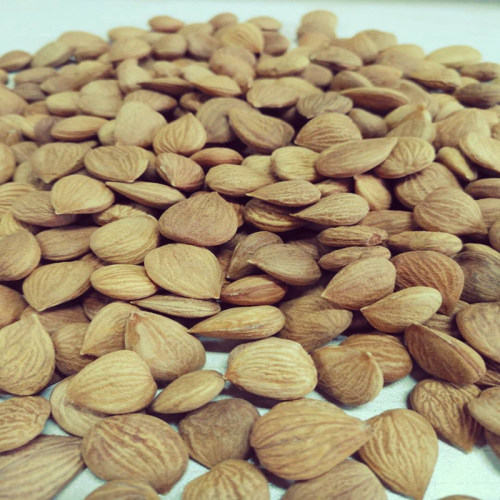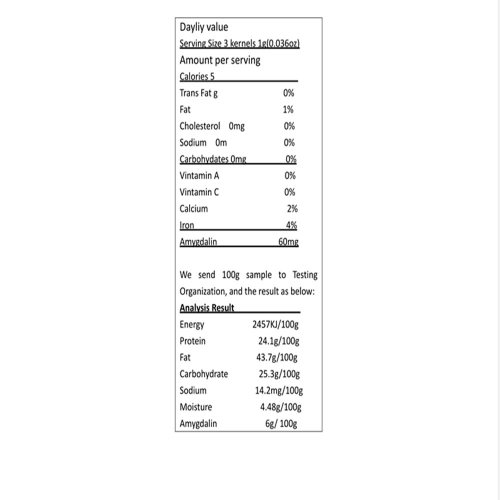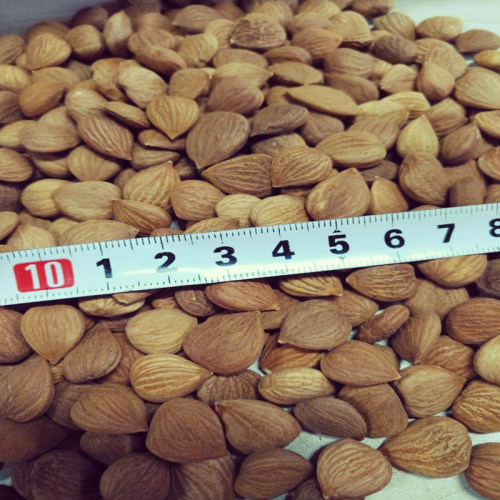 Almond China Supplier Bitter Apricot Kernels
Item specifics
Certificate

ECO FDA USDA
Product Name

Organic Raw Bitter Apricot Kernels Seeds High In B17 Amygdalin
Origin Country

Hebei China
Grade

AAAAA
Type

Dried
Purty

99%
Product Size

Larger Than 5mm
Package

Bulk or Retail Package
Brand

Shenzhou
Product Taste

Very Bitter
Description
About the Bitter Apricot Seeds




All the bitter apricot kernels are growing in wild environment which are free from pesticide and herbicide. All the bitter apricot seeds are USDA,Ecocert&FDA certified.
Nutritions value of our apricot kernels:they contain phosphorus, iron, magnesium and dietary fiber. Kernels are rich in omega-6 fatty acids, vitamins B15 and B17, A and E, niacin and phytosterols. These items work together synergistically to maximize the benefits for your health.

They are low-temperture air-dried and not steamed or cooked,so they retain their rich blend of nutrients.

Our apricot kernels are very bitter, just as the nature intended them to be . We only sell high-quality kernels to ensure you keep coming back for more healthy goodness!

Strong Package - we use the re-sealable bag for easy access and storage! Outside is a strong plastic bag to protect the products .
Notice Of Bitter Apricot Seeds
This product has not been evaluated by the food and drug administration.While everyone's nutrional needs are different, we do not recommend consuming more than7 seeds per day.Not intended for children for women are pregnant or nusing.
FAQ
What is B17 (Amygdalin)?
Amygdalin, often referred to as B17, is a naturally occurring molecule found in over 1,200 different foods including fruits, vegetables, nuts, grains and seeds. B17 is found in concentrated amounts in the seeds of apricots, plums, cherries, oranges, nectarines, apples, peaches and many other fruits. Apricot Power's natural B17 supplement is extracted from bitter raw apricot seeds.
Why do we need it?
B17 is primarily used by people to help support a healthy immune system. Many people believe that B17 is an essential nutrient and may offer a variety of benefits to your health. It is encouraged that everyone do their own research and decide on their own how it may help them.
What is the Shelf Life of Bitter Apricot Seeds?
We guarantee our seeds for at least a year and 6 months from the date of packaging, storing sealed in a refrigerator or a cool, dry place will maintain more long term freshness.
Shippment Of Bitter Apricot Seeds:
We offer free shipping to the lower 48 states and ship within 2 business days of payment, usually sooner. We do not accept P.O. Boxes. Please provide a physical address. Orders placed on a non-working day will be dispatched on the next working day.
Returns
We offer a 30-Day Return Policy on items which you are not completely satisfied with. You have the option for a full-refund or an exchange of the item. No returns are available on items shipped outside of the USA.And the buyer will be charge for the freight.
Nutrition Fact Of Bitter Apricot Seeds
Dayliy value
Serving Size 3 kernels 1g(0.036oz)
Amount per serving
Calories 5
Trans Fat g 0%
Fat 1%
Cholesterol 0mg 0%
Sodium 0m 0%
Carbohydates 0mg 0%
Vintamin A 0%
Vintamin C 0%
Calcium 2%
Iron 4%
Amygdalin 60mg
We send 100g sample to Testing Organization, and the result as below:
Analysis Result
Energy 2457KJ/100g
Protein 24.1g/100g
Fat 43.7g/100g
Carbohydrate 25.3g/100g
Sodium 14.2mg/100g
Moisture 4.48g/100g
Amygdalin 6g/ 100g